Delivering Self-Assessment Tracking, Measuring and Reporting for Compliance Activities
ComplySight is the easy-to-navigate, self-driven platform for credit unions to address compliance initiatives through a single application. This internal compliance solution assists in the organization's overall communication, supporting a state of continual readiness for audits, and providing regulatory updates essential to maintaining credit union compliance.
ComplySight transforms complex regulations into simple, straightforward summary language. As a holistic solution, it includes 16 areas of compliance and over 700 compliance factors for self-evaluation and grading to provide visibility and measurement and identify any potential areas of compliance deficiency. ComplySight matches compliance needs with compliance gaps - filling the need by integrating with League InfoSight products,
Infosight
and
CU PolicyPro®
.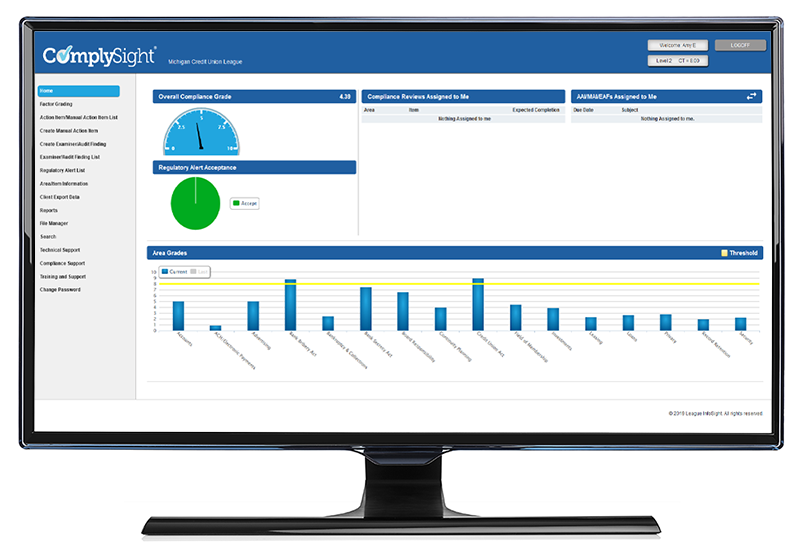 ComplySight also includes a comprehensive complaint management system to track complaints that ensures responsiveness, responsibility with reporting and to identify potential trends or areas needing improvement. The system allows credit unions to assign tasks to employees and record corrective action.
Tracking
- ComplySight's communication and tracking tools make it easy to determine your credit union's compliance position. Email notifications bring reminders right to your inbox to alert you of new assignments, new content, upcoming (or overdue) due dates. The dashboard provides a customized snapshot of open assignments and the current grade you have given for all areas.
Reporting
- Robust reporting features, overviews and in-depth information on your credit union's compliance to help direct your activities and keep everyone on task. A variety of reports allow you to pinpoint areas of concern, monitor progress and stay on track. Reports can be exported to PDF for distribution or to Excel for customization.
Updating Regulatory Changes
- ComplySight helps you stay on pace with regulatory reforms. When a regulation change or new guidance is introduced, you will be notified and provided guidance to assist with compliance reviews. You determine if the new content should be added to your system or if it is not relevant. You also have the option to delay acceptance of new changes until you have conducted the due diligence required.
Compliance Consulting
- ComplySight easily pairs with and supports your association/league consultant activities to provide complete compliance management.?
We are here to help! Contact us at
Info@CURiskIntelligence.com
ComplySight Newsletters
CU Risk Intelligence