A Web-Based Compliance Management and Tracking Solution
February 2019 | Vol. 6, No. 1
Introduction - Preparing for a Compliance Exam
The Federal Reserve's most recent issue of "Consumer Compliance Outlook" provides an in-depth look at the before, during and after of a compliance exam. In this issue of the ComplySight newsletter, we would like to highlight some key components of the exam "preparation" before the examiner is on-site and illustrate how ComplySight can help your credit union.
Review Previous Report of Examination
A key preparation component is to look at prior exams. What was identified? Was corrective action taken and were issues corrected? What has changed? Any new products or services may require a more detailed review to ensure compliance.
ComplySight contains the ability for credit unions to create Examiner/Audit Findings, which allow the credit union to track exam findings, record associated comments, attach relevant documentation and truly maintain a record of corrective action taken.
The credit union can indicate the type of review that has taken place (federal examination, state examination, internal audit, external audit, etc.), identify the exact type of issues that was identified (finding, recommendation, no finding or recommendation, document of resolution, etc.) and assign remediation tasks to a specific staff member where a due date is established.
When reviewing exam results from the prior year, credit unions should be able to look quickly at their Examiner/Audit Finding Report to determine the status of issues identified and the corresponding corrective action. Here is an example of a ComplySight screen with these components: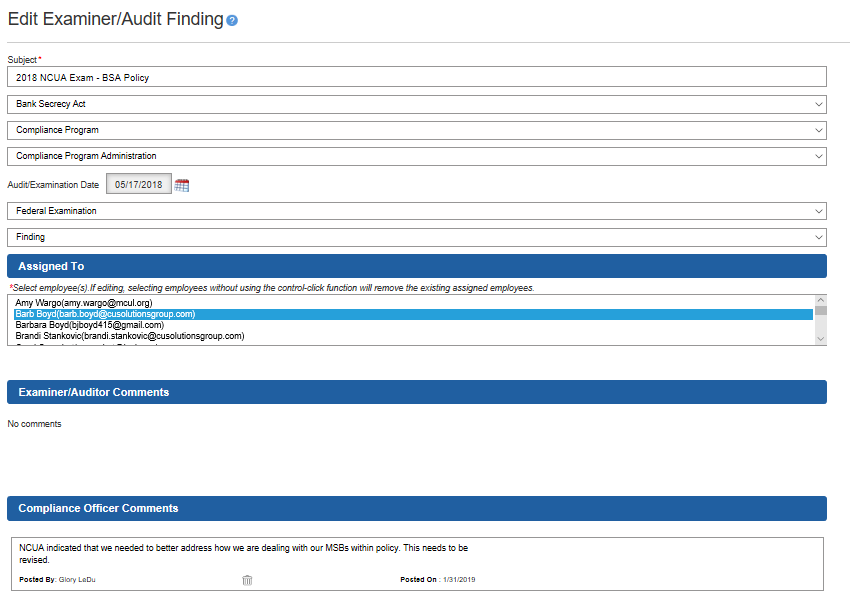 Review Any Corrective Action Processes
ComplySight is also a tool to demonstrate an effective corrective action program and document the action taken and follow-up/investigation that took place on the credit union's previous exam, audit or internal review. This is done not only through Examiner Audit Findings, but also through the Factor Grading process, where ComplySight automatically generates Action Items for follow-up.
When reviewing the credit union's policies, procedures and practices to determine compliance, the credit union then grades themselves on compliance. If the credit union grades themselves below the established compliance threshold, a prompt comes up that will automatically create an Action Item for the credit union to assign for corrective action. This process should be communicated to examiners to show corrective action follow-up post-examination.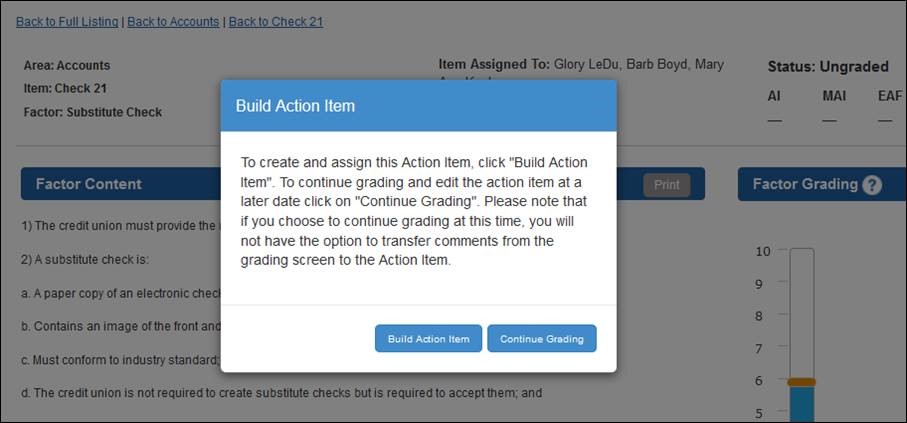 Review Change Management Processes
Examiners will want to know how the credit union responds to changes in new regulatory requirements or new products and services.
Credit unions utilizing ComplySight can let examiners know that they receive a Regulatory Alert notification when new regulations are finalized, which provides new or amended content for the credit union to utilize in ensuring compliance.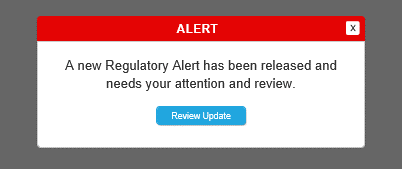 Review Consumer Complaints
The credit union should be prepared to explain and show to examiners how they are addressing consumer complaints, and ComplySight has a built-in Complaint Management System for this purpose.
As a free added benefit designed to help credit unions log, aggregate and monitor complaints that may come into the credit union, the Complaint Management System is able to track how the complaint is received (mail, social media, etc.), the category of the complaint (lending, member service, etc.), the branch impacted and much more. This is to help the credit union not only keep a record and show resolution of any potential issues, but to allow for reporting in order to further determine if there is a deeper, systemic issue that is putting the credit union at risk.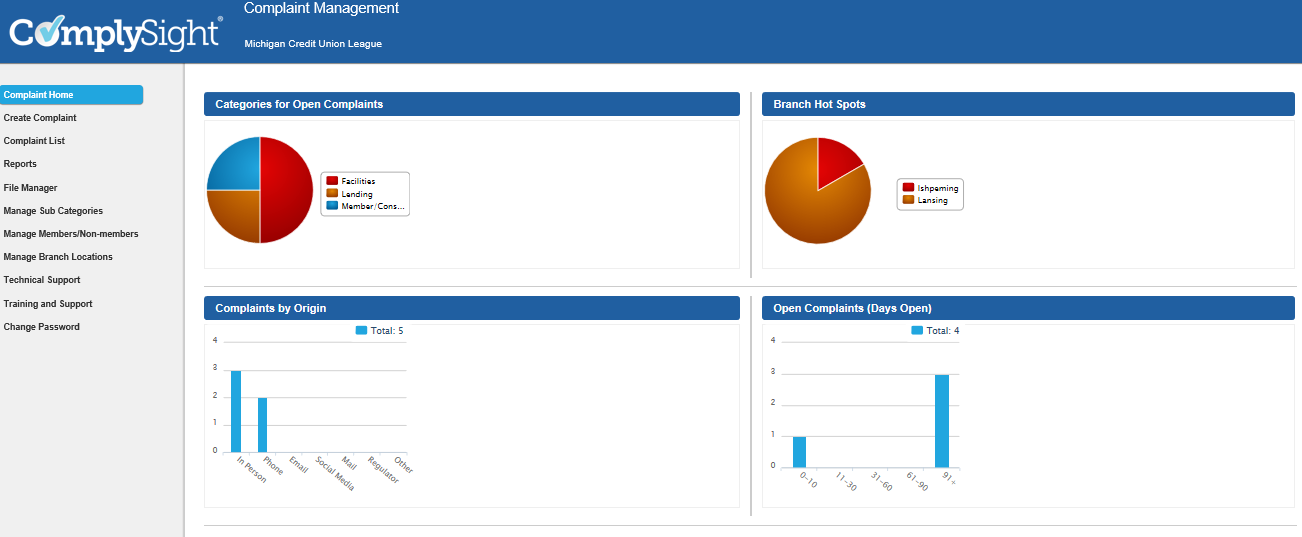 ComplySight provides many tools that will help credit unions be successful on upcoming audits and examinations; make sure you are taking advantage of them!
ComplySight Resources - Recent Enhancements
Email Verbiage Updates
We have added additional information to emails concerning updates to Automatic & Manual Action Items and Examiner Audit Findings. The email will now indicate what was updated on each item ( e.g., if a new due date was assigned, or a change in the Subject of the item). For clients who have multiple users working with items, this enhancement will keep those who have been assigned to (or who have assigned) items up to date on the progress of each assigned item.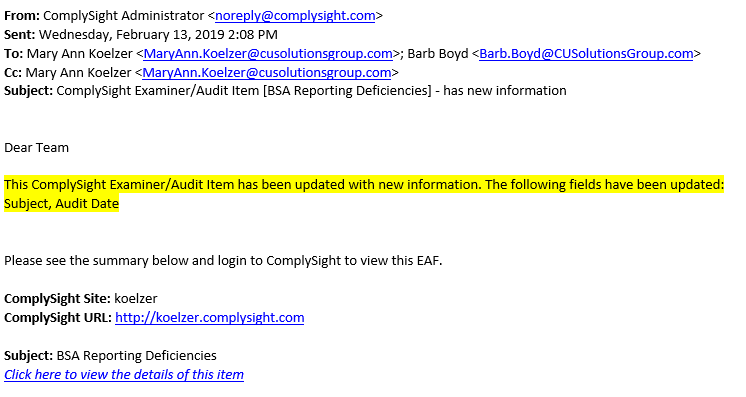 Report Updates
You asked and we listened! We have had a several requests for the following changes on our reports:
For any reports that include the ability to filter data, the filtered data will extend to the export. While most of our reports already functioned this way, we had clients notify us that not all of the reports were holding their filter selections during export. This is now resolved for all reports.

For the following Reports, we have separated the Comments by column so Compliance Officer - L2, Reviewer - L2.5, and Examiner/Auditor - L3 Comments can now be viewed and sorted separately:


Action Item Report
Examiner/Audit Finding Report
Factor Grade Report
Please note that this does extend the size of the report and for export purposes, Excel may be the best option to allow for resizing of the columns.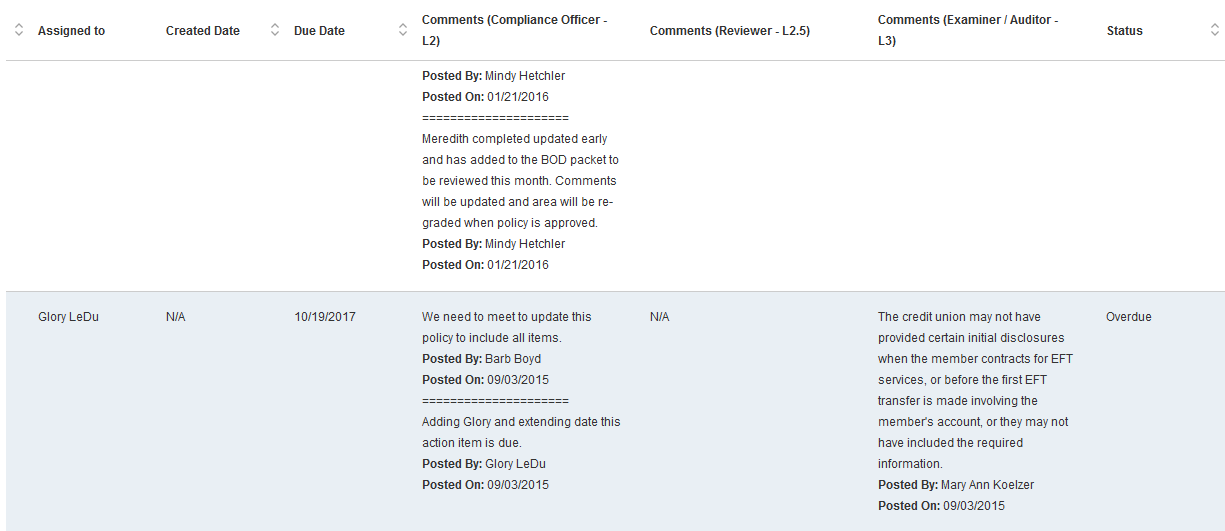 Complaint Management System – Risk Rating
We think it's critical that the credit union aggregates complaints that come through the credit union. It might be challenging internally to define what a "complaint" actually is. However, when that definition is determined and procedures are developed, we are hopeful that credit unions are taking advantage of the complaint management system to document the issue and resolution. At the request of a credit union, a new enhancement was to create a "risk level" for complaints that are logged. We thought this was a great idea and have implemented the change, as noted below. This field is not required but might be useful for the credit union to populate, especially when they are pulling reports. Credit unions will now have the capacity to sort the report according to risk level.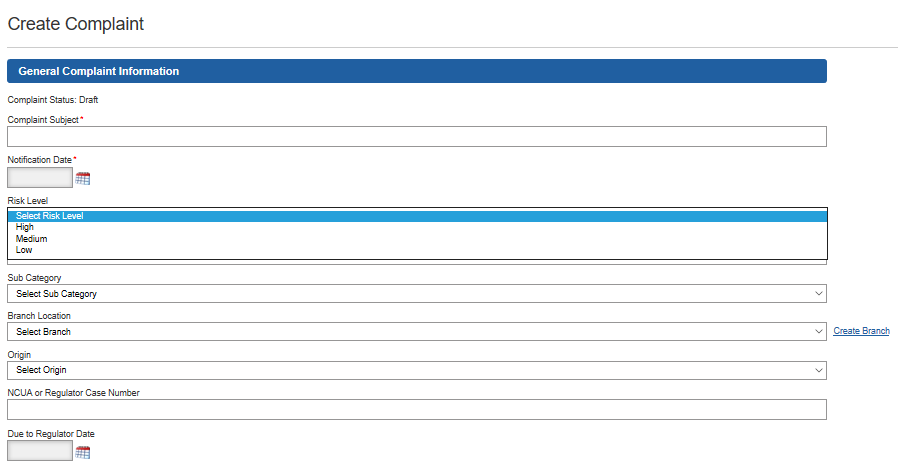 ComplySight Training & Support
Training
VIDEO TUTORIALS – Log in to ComplySight and click on the "Training and Support" page to access video training tutorials to make your ComplySight experience even better! These are also available 24/7! To view a Recorded webinar at any time, click on the title of the webinar.
Support
Technical questions (software operation issues) or general questions can be submitted through the Technical Support form in ComplySight or sent to support@complysight.com
Compliance-related questions can be submitted through the Compliance Questions form in ComplySight.
Other Resources
Closing Comments from Glory
Now's the time!
For those of you who have been using ComplySight piece-meal, NOW is the time to really dive in and use it to its fullest extent. We have made tremendous enhancements and improvements all around. The system is easier to use, notifications are more informative, encryption is enhanced and we are getting great feedback!
Need help? Need ideas? Need to get your staff on board? Send us an email and we can provide you with some of our suggestions based on feedback received from our credit unions!
Glory
Glory LeDu, CUCE, BSACS, CUERME
Glory.LeDu@LeagueInfoSight.com
ComplySight is a product of League InfoSight, CUNA and your State Association or League.
Check with your League/Association for information regarding availability in your state.